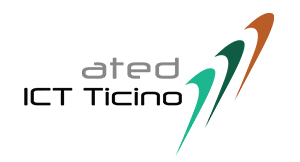 Ated ICT Ticino
Founded on November 19, 1971 in Lugano, ated - ICT Ticino is an independent association active in the Canton of Ticino, open to all people, companies and organizations and schools interested in information and communication technologies (ICT).

AITI
The goals of AITI Servizi SA are:
- collect the needs of businesses in the field of services.
- act as a provider, respectively as an intermediary, in specific service sectors.
- create and propose new solutions for businesses, in particular for those associated with AITI.

Camera di commercio cantone Ticino
The Chamber of Commerce, Industry, Crafts and Services of the Canton of Ticino (Cc-Ti), founded in 1917, has been operating in Ticino for over 100 years. As the umbrella association of the Ticino economy, it works for the entrepreneurial and economic fabric of Ticino, which it represents in its most varied composition. It favors the activity of companies and sectoral associations that are represented through concrete initiatives in various areas. It provides information, training and targeted services to members, while at the same time promoting their networking. it is also a privileged interlocutor of federal and cantonal authorities, as they are a link between the state, the political world and the economic reality of the canton. This makes Cc-Ti a credible and privileged partner in relations with institutions; these channels are used to protect economic freedom and promote favorable framework conditions, so that businesses can be born and prosper thus ensuring a strong and competitive economy for the benefit of the whole society.