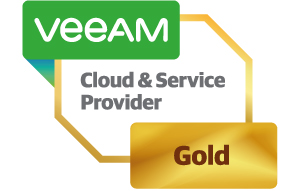 Complete data protection
Keeping up with innovations is the key to us helping our customers' businesses grow. That is why we always strive to build partnerships with the best vendors on the market, like Veeam, the award-winning Modern Data Protection platform and a global leader in its sector.
Through this collaboration, we have achieved Veeam Gold Partner certification, positioning Tinext amongst the best resellers of the program in Italian-speaking Switzerland. It is a very important partnership because it allows us to offer the end customer solutions that will always increase the profitability of their business.
Safe from external threats
The Veeam services offered by Tinext move in various directions. We think that some of the most important are the Backup as-a-service and Disaster Recovery as-a-service. We know that companies today are continually exposed to threats of interruption and data loss. With the Veeam BaaS and DRaaS programs, we offer our customers the certainty that their data will always be secure, both in the event of external threats and accidental deletion.
A fully customisable service
Veeam's data protection strategies are easy to implement, customisable and simple to manage. However, at the same time, they are flexible and adapt to all platforms, clouds and storage. The power of Veeam's solutions therefore allows companies to restore data instantly and prevent any period of inactivity.